Noviembre 2018
| Dom | Lun | Mar | Miér | Jue | Vie | Sáb |
| --- | --- | --- | --- | --- | --- | --- |
| | | | | 1 | 2 | 3 |
| 4 | 5 | 6 | 7 | 8 | 9 | 10 |
| 11 | 12 | 13 | 14 | 15 | 16 | 17 |
| 18 | 19 | 20 | 21 | 22 | 23 | 24 |
| 25 | 26 | 27 | 28 | 29 | 30 | |
Calendario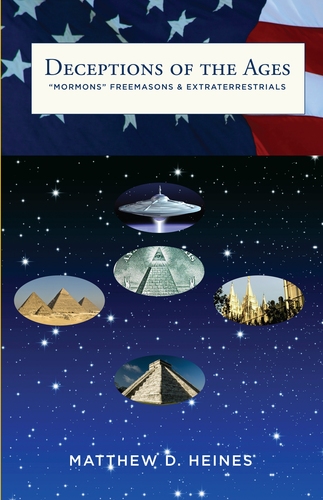 Sequim, WA native celebrates controversial book release
Sequim Gazette | Oct 13, 2010
by Ashley Miller
What do Mormons, Freemasons and aliens have in common?
Matthew Heines, teacher and author, shares his theories on the subject in his recently published book, "Deceptions of the Ages: 'Mormons' Freemasons & Extraterrestrials."
"There is a connection among those three things," Heines insisted, promising readers that the text is neither fictional nor a conspiracy theory.
"I give you the cultural context – I don't just throw crazy ideas out there – with information that is real and is in historical textbooks."
The book, Heines assured, isn't an anti-Mormon or anti-Freemason text. It's simply about history, covering a span of about 5,000 years and focusing on factual and objective insights into some of the biggest deceptions of our time.
Using historical texts and holy writings from Socrates, Stephen Hawking, Moses, Max Planck, saints and satanists, "Deceptions of the Ages" discusses the conflict between science and religion and truth and secrecy in what Heines describes as an "interesting and humorous way." The 700-page book uncovers relationships between the Society of Freemasons, the Church of Jesus Christ of Latter-day Saints and the extraterrestrial phenomenon while also discussing modern-day issues such as the rise of modern banking, war and technology.
"In the Information Age, it seems that correct information is harder than ever to come by," Heines said.
"This book is written for all the working men and women of this world who have become disconnected and disempowered. It is a way for them to at least have a basic understanding of the modern system of government, religion, history and science."
"This is information that they don't want us to know about," Heines said. "Who is 'they'? Read the book."
Heines was raised in the Pacific Northwest and graduated from Sequim High School. He served as a paratrooper in the 82nd Airborne Division from 1982-1986, where he "learned how to camp, jump out of airplanes and play with dangerous weapons." Then he entered the world of academia, attending Washington State University and then the University of Alaska where he earned his master's degree and became a "world class sledder and tobogganist."
After graduation, Heines taught in Wasilla, Alaska; Seattle and the Kingdom of Saudi Arabia.
Following Sept. 11, 2001, Heines accepted a job in the Sultanate of Oman and has written two accounts of his experiences in the heart of Arabia during the early years of the war on terrorism.
"My Year in Oman," "Another Year in Oman," and "Deceptions of the Ages" are all available for sale via Amazon.com or through the official website of Matthew D. Heines.
At the persistence of his wife, Sangeeta, Heines is taking a break from teaching and focusing all of his energy on writing. The couple lives in the Sultanate of Oman but spend their summers in Sequim, where they rent a cabin overlooking the Strait of Juan de Fuca.
"We love living here (in the Sultanate of Oman) and will probably stay for a few more years," Heines predicted, describing the area as very different from how it's portrayed on television.
"It's cheap, the lifestyle is fantastic, the people are nice, it's always sunny and we're treated like royalty."
"Of course, it's not all beer and Skittles," he added on a more serious note, "but I really enjoy it."
Ultimately, the couple would like to retire to Sequim, Heines said, but that won't be for a while.
In the meantime, Heines is working from sun up until sun down marketing "Deceptions of the Ages" and is in discussion with the History Channel regarding a show about UFOs.
For more information, excerpts and photographs, go online to
www.heinessight.com.

_________________
Pedro P. Dollar:.
Por Cuba, con Dios y la Masoneria
Admin




Cantidad de envíos

: 12982


Puntos

: 35818


Reputación

: 225


Fecha de inscripción

: 14/06/2009


Edad

: 67


Localización

: Miami



Última edición por traductor el Lun Dic 27, 2010 8:20 am, editado 2 veces
Eso, y hay que tener en cuenta que Joseph Smith era mason.

_________________
Pedro P. Dollar:.
Por Cuba, con Dios y la Masoneria
Admin




Cantidad de envíos

: 12982


Puntos

: 35818


Reputación

: 225


Fecha de inscripción

: 14/06/2009


Edad

: 67


Localización

: Miami




---
Permisos de este foro:
No puedes
responder a temas en este foro.