Diciembre 2018
| Dom | Lun | Mar | Miér | Jue | Vie | Sáb |
| --- | --- | --- | --- | --- | --- | --- |
| | | | | | | 1 |
| 2 | 3 | 4 | 5 | 6 | 7 | 8 |
| 9 | 10 | 11 | 12 | 13 | 14 | 15 |
| 16 | 17 | 18 | 19 | 20 | 21 | 22 |
| 23 | 24 | 25 | 26 | 27 | 28 | 29 |
| 30 | 31 | | | | | |
Calendario



_________________
Pedro P. Dollar:.
Por Cuba, con Dios y la Masoneria
Admin




Cantidad de envíos

: 12982


Puntos

: 35840


Reputación

: 225


Fecha de inscripción

: 14/06/2009


Edad

: 67


Localización

: Miami



Today in Mason History: 15 December.
Brother John Stewart-Murray, 8th Duke of Atholl (15 December 1871 – 16 March 1942), Scottish soldier and Conservative politician. Served as 79th Grand Master Mason of Scotland 1909-1913.
Styled Marquess of Tullibardine from birth, he was born at Blair Castle, Perthshire, the second but eldest surviving son of John Stewart-Murray, 7th Duke of Atholl, by Louisa, daughter of Sir Thomas Moncreiffe of that Ilk, 7th Baronet. He learned to speak Gaelic before English and was subsequently educated at Eton.
He commissioned into the rank of Second Lieutenant in 1892 in the service of the Royal Horse Guards and to Lieutenant a year later. He served in Kitchener's expedition to the Sudan, fighting at the Battle of Khartoum, the Battle of Atbara. He was appointed a Companion of the Distinguished Service Order (DSO) on 15 November 1898, and rose to the rank of Captain a year later.
In November 1900 he was given the rank of brevet Major in the Royal Horse Guards, and asked by Lord Kitchener, who he had served under on the Omdurman Campaign, to raise a Regiment of Scotsmen in South Africa, called The Scottish Horse. In the Great War Atholl commanded a Brigade of a Yeomanry Regiments and took them to fight dismounted (with-out horses) in the Dardanelles campaign against the Turks. He gained the rank of Temporary Brigadier-General in 1918.
During the Second World War despite being seventy years old, Atholl joined the Home Guard and reportedly took turns as sentry officer on duty in Whitehall.
Atholl was elected as Conservative Member of Parliament for West Perthshire at the January 1910 general election, and served until 1917 when he succeeded his father and took up his seat in the House of Lords as the 8th Duke of Atholl. In 1918 he was made a Knight of the Thistle and then served as Lord High Commissioner to the General Assembly of the Church of Scotland between 1918 and 1920. In November 1921 he was sworn of the Privy Council and appointed Lord Chamberlain of the Household by David Lloyd George, a post he held until the coalition government fell in October the following year.
Apart from his military and political careers Atholl served as Grand Master of Scottish Freemasons between 1908 and 1913 and as an Aide-de-camp to King George V between 1920 and 1931. He was granted the Freedom of the City of Edinburgh. According to his wife's book "Working Partnership" (1958), Atholl was considered for the Crown of Albania after a chance meeting with a delegation in Florence who were impressed with his personality.
[/size]

_________________
Pedro P. Dollar:.
Por Cuba, con Dios y la Masoneria
Admin




Cantidad de envíos

: 12982


Puntos

: 35840


Reputación

: 225


Fecha de inscripción

: 14/06/2009


Edad

: 67


Localización

: Miami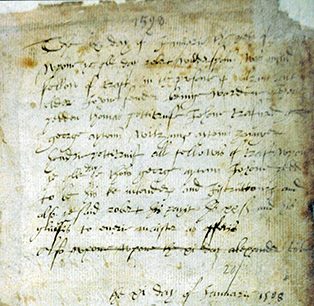 The Grand Lodge of Antient Free and Accepted Masons of Scotland
If modern Freemasonry originated in Scotland why was the Grand Lodge of Scotland founded after that in England (1717) and Ireland (1725)? The answer has been partly provided in an earlier post in that the four founding Edinburgh Lodges were surprised to discover that there were 100+ Lodges in existence in Scotland in 1736. 79 Lodges which had a membership of working stonemasons, or at least had a majority of members who were operative, could see no point in joining a purely speculative Grand Lodge. The composition of the other 21 Lodges will be discussed later.

Meantime this image is of the oldest Lodge Minute in the world being that of Lodge Aitchison's Haven dated 9 January 1599. The Minutes are written in a language known as Middle Scots and the first part is transcribed and translated as follows:

1598

The IX [9th] day of Januerie [January] the Zeir [year] of God upon quhilk [which] day Robert Widderspone was maid [made] fellow Craft in ye [the] presens [presence] of Wilzam [William] Aytone Elder. John Fender being Warden, John Pedden, Thomas Pettencrief, John Crawford, George Aytone, Wilzam Aytone younger, Hendrie Petticrief all fellowis [fellows] of Craft on ye quhilk day he chois [chose] George Aytone [and] John Pedden to be his intenders and instructouris [instructors] and also ye said Robert hes [he has] payit [paid] his xx sh. [20 shillings] and gluffis [gloves] to everie [every] Maister [Master] as efferis [as follows].

A note about the dating of these Minutes. In 1600 Scotland adopted January 1 as New Years Day. This means that although this Minute is written as 9 January 1598 requires to been 'changed' to 1599 to make it correct according to the modern calender.

_________________
Pedro P. Dollar:.
Por Cuba, con Dios y la Masoneria
Admin




Cantidad de envíos

: 12982


Puntos

: 35840


Reputación

: 225


Fecha de inscripción

: 14/06/2009


Edad

: 67


Localización

: Miami




---
Permisos de este foro:
No puedes
responder a temas en este foro.