Diciembre 2022
| Dom | Lun | Mar | Miér | Jue | Vie | Sáb |
| --- | --- | --- | --- | --- | --- | --- |
| | | | | 1 | 2 | 3 |
| 4 | 5 | 6 | 7 | 8 | 9 | 10 |
| 11 | 12 | 13 | 14 | 15 | 16 | 17 |
| 18 | 19 | 20 | 21 | 22 | 23 | 24 |
| 25 | 26 | 27 | 28 | 29 | 30 | 31 |
Calendario
Body of Chilean President Salvador Allende is exhumed to determine whether he was killed or committed suicide
by pjwalker911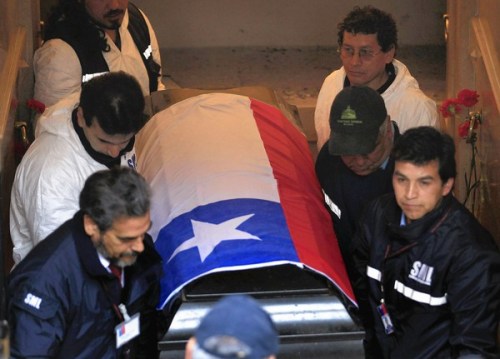 Trabajadores medicos remueven el ataud del Presidente chileno Salvador Allende de una tumba en Santiago. (Roberto Candia, Associated Press / May 24, 2011)
Un team forensico tratara de determinar si el lider sacado del poder en 1973, cometio suicidio como se cree, o si fue asesinado.
Los Angeles Times | May 24, 2011
By Fabiola Gutierrez and Chris Kraul
Reporting from Santiago, Chile, and Bogota,— Nearly four decades after a bloody coup overthrew Chilean President Salvador Allende, the remains of the socialist leader were exhumed Monday to try to determine whether he was killed or committed suicide.
The flag-draped coffin of Allende, who died during an attack on the presidential palace on Sept. 11, 1973, by military forces, was removed from Santiago's General Cemetery by government officials and taken to a forensic medicine facility.
The procedure was authorized by an appellate court judge April 15 in response to controversy over whether Allende killed himself, was felled by a bullet fired from outside the palace, was given a coup de grace by an associate after a failed suicide attempt or was executed by soldiers.
The longstanding version of events, which has been accepted by Allende's family, is that the president killed himself with an AK-47 assault rifle given to him by Cuban leader Fidel Castro. Forces controlled by coup leader Gen. Augusto Pinochet were about to storm the palace and Allende had vowed not to be taken alive.
Human rights groups and independent investigators say there are discrepancies in the official autopsy report, among them the possibility that the late president suffered two gunshot wounds. The lawyer who led the effort to reopen the case said clarifying the circumstances of Allende's death was "a debt to human rights."
"The wound left by President Salvador Allende's death is still open," the lawyer, Eduardo Contreras, told The Times in a telephone interview. "We have never gotten to the bottom of the real cause," he said, adding that the position of Allende's body and the rifle did not "correspond with a suicide."
Allende's daughter Isabel — a senator who is not to be confused with the novelist of the same name, a cousin — read a statement at the cemetery Monday saying the family supported the investigation even though it remains convinced Allende's death was a suicide.
One Allende supporter, physician Patricio Guijon, said he was present during Allende's suicide and saw the president's skull explode from a shot fired with a weapon Allende had placed between his knees.
But rights groups say the president's death has never been officially investigated by the government and is one of 726 such open cases from the coup and the years of military rule that lack closure.
A 1975 investigation by a U.S. Senate committee into CIA activities found that U.S. intelligence officials "appeared to have condoned" the coup and may have helped its leaders gather information before the overthrow.
Allende's remains were first buried in Valparaiso west of the capital, then moved to Santiago in 1990 after Pinochet left power. No target date has been set for completion of the investigation by a six-member forensic team, which includes Spanish doctor Francisco Echeverria, who was named by the Allende family.
http://aftermathnews.wordpress.com/
---
Permisos de este foro:
No puedes
responder a temas en este foro.